WEINIG EasyScan RT: Innovative ripping optimization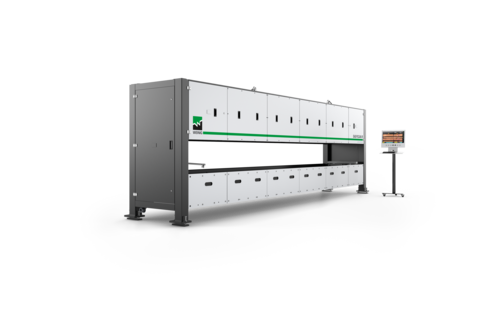 The EasyScan RT constitutes the next generation in rip scanners. Its revolutionary concept features automatic moving cameras, which sets it apart from all competitor products. In contrast with conventional cross conveyor scanners, the number of sensors can be reduced drastically, cutting down costs to a minimum.
The new design helps to keep mechanical components simple and reasonably priced. The cross conveyor feeds the boards into the scanner, then holds them motionless for scanning. For this the cameras move along the boards' longitudinal axes. Thanks to this innovative solution, the mechanization and space requirements are greatly reduced. This, in turn, reduces the costs of the cutting line enormously. The cost-saving potential is significant, compared to conventional scanners using longitudinal conveyors.
Existing cutting lines with or without geometric measurement can be re-fitted quickly and cost-effectively with the new Easy-Scan RT, because the existing cross conveyor transport can still be used to a large degree.
With its enhanced 2D optimization, the EasyScan RT represents an outstanding upgrade for your rip saw. The two-dimensional optimization of the boards allows recovery to be significantly improved. Cross-cutting optimization is already predicted during the ripping optimization. Cross-cut scanners and rip scanners therefore work together in this instance. Optimization according to both width and end-product significantly improves ripping decisions. Manual, laser-controlled width optimization simply cannot compete with the potential of this system.
Simple optimization is the key to efficient production. The high-performance optimization software allows a variety of qualities and zones to be created and combined into multiple end products. The products and qualities are stored in a database and can be selected at any time via drag and drop. The logical user interface of the scanner simplifies settings in a visual way providing simple operation for all.
The sensor options have been adopted from the successful EasyScan R, meaning that the EasyScan RT also has a proven selection of sensors and options. Curvature measurement and the module for random widths are also factory-fitted with the EasyScan RT. Owing to the nature of ripping, image detection and optimization are only performed on the top and bottom sides.
Prices
x
Different requirements - different prices
The price of a WEINIG machine is just as individual as your requirements are. Therefore, let us discuss briefly what is most important to you – you will then receive our preliminary, non-binding quote.
Personal advice
x
Personal advice – for higher productivity and greater efficiency
Together with your WEINIG expert you will find the ideal machine for your requirements. Simply submit the completed form, and your local WEINIG expert will be happy to discuss all further details with you.
---
The WEINIG EasyScan RT series provides
Increased recovery since the detection accuracy of the scanner is far superior to manual marking
More flexible production since many different qualities and products can be produced at the same time
Increased quality of end products
Increased quality of end products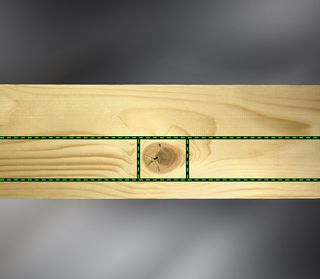 Ripping optimization explained simply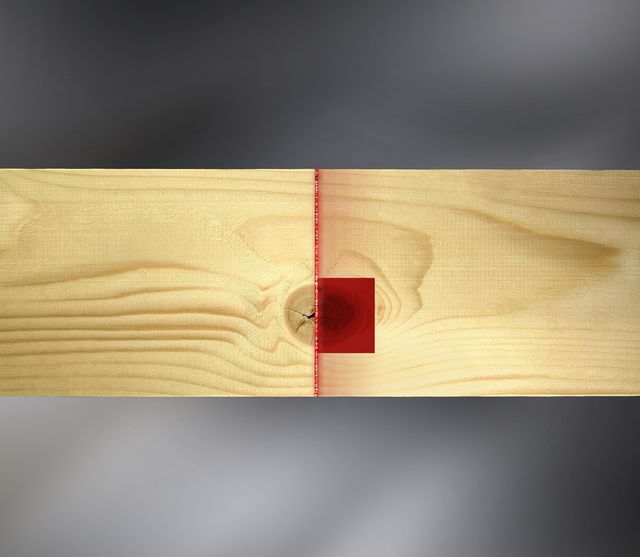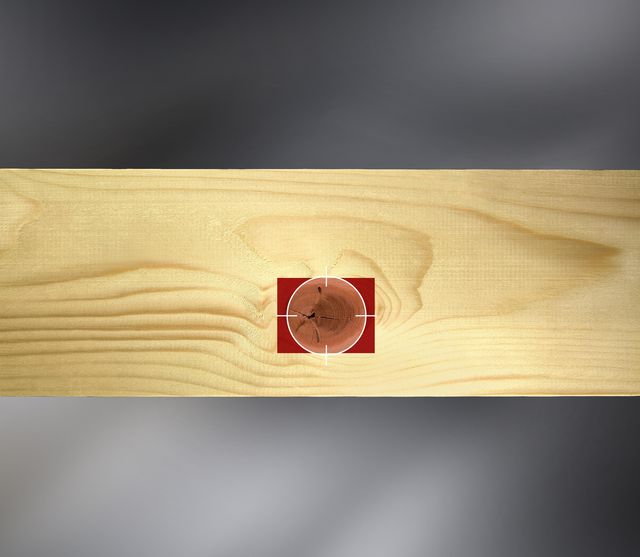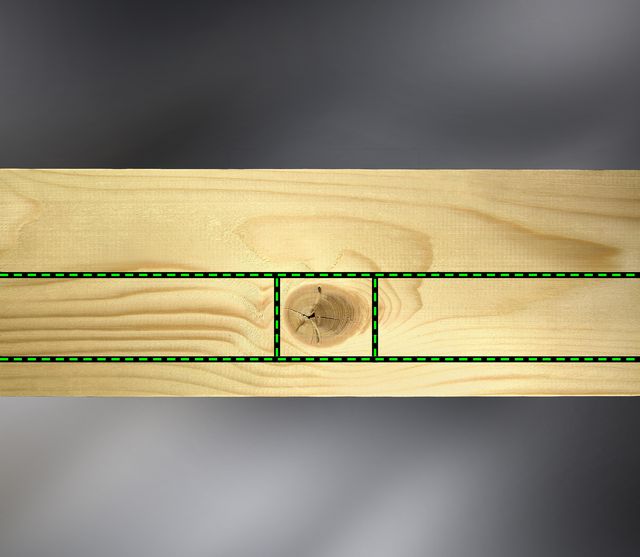 Step 1: LuxscanLine scanners are based upon various sensors, such as laser cameras, color cameras and X-ray. Your WEINIG expert will define the right sensors and the best combination of these, matched to the wood species, surface quality and customer requirements. Our objective is to achieve the best possible quality of information for the required application.
Step 2: Image processing is handled by the highly sophisticated OptiCore software. This detects and identifies defects as well as color variations on the board. The ideally adapted sensor data ensures optimal data processing and defect detection.
Step 3: Optimization via the high-performance OptiCore software calculates the best solution during ripping. In doing so, it takes into account the various customer requests and requirements. Based upon the precise board data calculated during image processing, the board is optimized in accordance with the customer's settings. This allows a virtually unlimited number of qualities and products to be defined. Thus, even a complex product mix can be quickly and simply optimized. This allows a virtually unlimited number of qualities and products to be defined.
EasyScan RT layout suggestions
The EasyScan RT is suitable for one rip saw.
The sensors: The key to success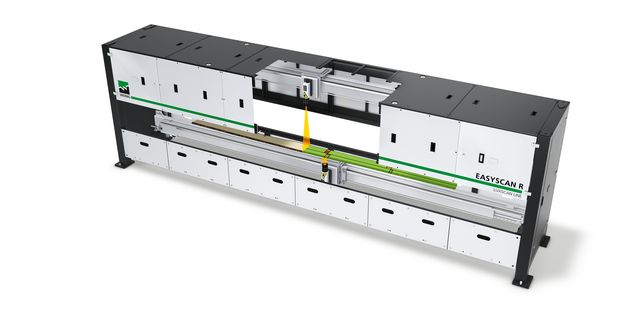 All sensors are ideally protected by a dust-proof housing. Our laser cameras are installed in every system as standard. With the fastest speed available on the market, these guarantee a high resolution and optimal results. Performance is continually improving through continuous development of this industrial sensor system. This technology detects defects such as knots, pith, cracks, etc. A sophisticated laser system also reliably detects 3D surface defects, such as holes and wane.
In addition, optional color modules improve the scanner's detection. Color defects, as well as cracks and insect holes, are detected more reliably than ever before.
OptiCore: Der neue Benchmark in der Welt der automatisierten Optimierung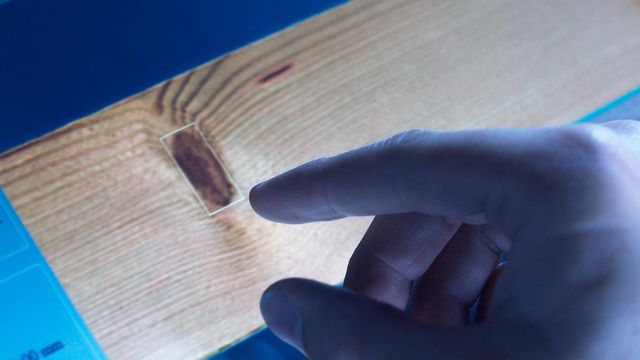 Neben den Sensoren wie Laser- und Farb-Kameras, Röntgen, Krümmungsvermessung, etc. spielt die Software die größte Rolle bei der Kappoptimierung. Hierbei kommt es auf einfache Bedienung, Komfort und Entscheidungssicherheit an.
Das System soll einfach zu verstehen, intuitiv zu bedienen und verlässlich in Verfügbarkeit und Leistung sein. Durch die OptiCore-Software, werden all diese Punkte erfüllt. Durch seine optische und operative Anlehnung, an die OptiCom Direct Software von DIMTER, ist die Bedienung beider Maschinen quasi identisch. Dazu bietet OptiCore auch weiterhin die bewährte Optimierungsstruktur, die es erlaubt, Ihre Produktion so einfach und schnell zu erstellen wie zu fertigen.
OptiCore ist in der Lage, eine unbegrenzte Anzahl an Produkten und Qualitäten zu verarbeiten. Durch die einfache Beschreibung der Qualitäten mittels Zonen, wird dabei einerseits die Ausbeute gesteigert und andererseits der Kunde in die Lage versetzt, eine größere Diversifikation in den Produkten zu erreichen. So können durch genaueste Beschreibung der Qualitäten, mehr spezifizierte Produkte produziert werden. Durch die damit gepaarte hohe Genauigkeit in der Vermessung der Holzmerkmale, wird Ihre Rohware deutlich effizienter genutzt. Die verschiedenen Optimierungsmodi – Optimierung nach Wert, Ausbeute oder Produktionsziel – machen die Scannertechnologie noch interessanter. So können Produktionsziele festgelegt werden, die in der Folge gleichzeitig abgearbeitet werden. Die Produktion von Aufträgen mit Stücklisten, stellt so kein Problem mehr dar. Durch eine gemeinsam genutzte Softwareoberfläche ergeben sich auch Synergie-Effekte in der Steuerung der Maschinen. So können die Füllstandsinformationen der OptiCut Stacker auch in der Optimierung mit berücksichtigt werden. Dies ist nur ein weiteres Beispiel für aktuelle WEINIG Hochtechnologie. So sind Sie jederzeit für zukünftige Aufgaben und Herausforderungen gerüstet.
OptiLink: Ideal optimization via connected processes.
Using multiple, complex production processes has always been a difficult task. Linking various applications and production lines further complicates the flow of information. OptiLink was developed to simplify production management by centralizing information. With a single access point to all information, just-in-time production is no longer a complex challenge. OptiLink decreases operator errors and reduces the inventory of semi-finished goods. A further benefit is the quick and simple data management with regard to ERP systems. This even allows production of single-item batches thanks to sophisticated statistical functions. Although OptiLink was originally developed purely for linking cross-cut scanners and rip scanners, it is now possible to connect many other cutting-related machines.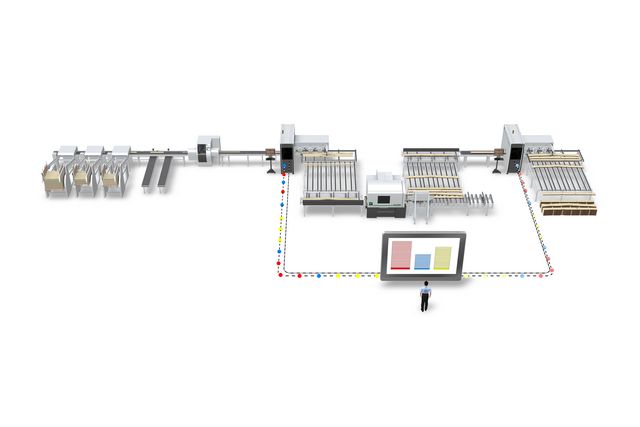 OptiLink: Ideal optimization via connected processes.
Using complex production processes has always been a difficult task. Linking various applications and production lines complicates the flow of information.
---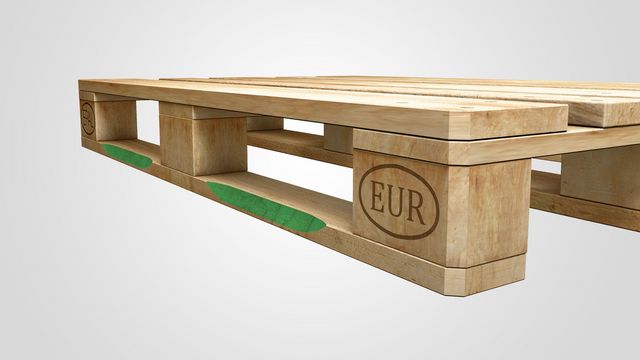 The Euro pallet has become an indispensable resource for transporting products and goods. As a result the production of pallets is an attractive market segment. However, pallet timber is not only planed on four sides but they also have chamfers that make it easier for the forklift to pick up the pallet. WEINIG offers a very efficient solution for pallet production, namely the jumping spindle that jumps in and out of a work piece. The basis for this is precise measurement, which allows the jumping spindle to be clocked at the right moment. The parameters of the chamfer, length and position on the work piece, can be defined by the machine operator.
The WEINIG solution with exact measurement and the dynamic spindle ensures that all chamfers have the same length are in the same position on the work piece. In addition, the "dip in" and "move-out" distances are equally long. In this way WEINIG meets all requirements for producing high-quality pallets in an economical way.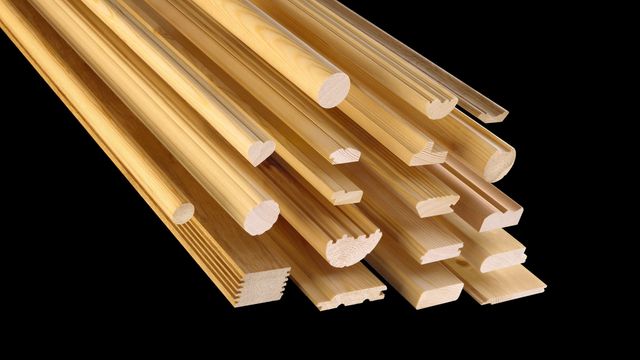 Our core competence
Profiling mouldings of all types has always been WEINIG's core competence. Profiling includes a wide range of end products that nevertheless set the same challenges for machine technology: high levels of profile precision with excellent surface quality and regular cuttermarks.
WEINIG technology is always setting new standards in this area. The basis for this are the solid machine bases with precise machine tables and the fence at exactly the right angle to this. The superiority of the WEINIG machines is seen overall when dynamics are brought into the equation: spindles with high true running accuracy, a strong feed system and the corresponding pressure elements.
The perfect interaction of these components guarantees smooth transportation in a defined position through the machine. The result is the legendary WEINIG quality of your products: high profile precision, excellent surface quality and regular cuttermarks.