WEINIG scanner systems: Recording everything at a glance
Fully-automatic high-performance lines are being used increasingly in modern wood processing, even in raw wood cutting. An upstream scanner is an integral component of the overall system. The scanner records the relevant timber data on all sides in the blink of an eye (branches etc.) and supplies this to the downstream main machines, such as rip saws and optimizing cross-cut saws at full production speed. Without automatic recognition systems like this, the cutting performance of the overall systems would be unimaginable. This places the highest demands on the control technology.
The WEINIG development departments provide solutions for highly automated production lines. We guarantee reliable production processes - for solid wood and softwood applications. WEINIG offers the right configuration for every application.
The CombiScan+ series sets completely new benchmarks in the development of scanner technology. The innovative, completely revised product portfolio offers generally higher performance and significant optimization of the traditional strengths of scanners. The CombiScan+ series provides solutions across all process stages: from ripping the timber and cross-cutting applications to a range of optimizing variants for use as a sorting scanner.
The EasyScan series offers efficient performance features at attractive prices and is specially designed for the requirements of smaller companies with simple cross-cutting applications. It is capable of feeding a cross-cut saw and has the efficient and powerful optimization of the CombiScan+ series.
With EScan, the product range has been extended to optimized sorting by strength. A range of different options for sorting by strength now enable certified production of glulam, DUO, TRIO and other strength-related products.
Menu for technology connoisseurs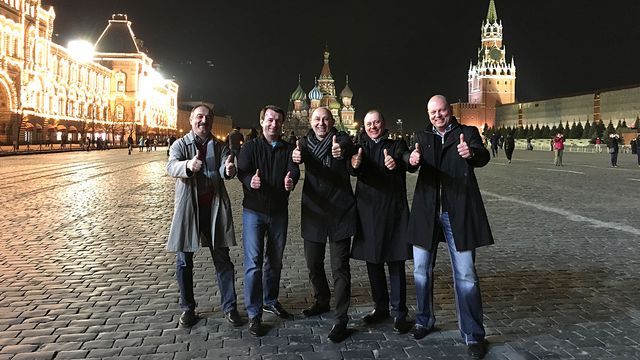 Angara Plus from Bratsk, Siberia, manufactures solid wood components for furniture production on a large scale. The company recently commissioned its second fully-automated production line. WEINIG Concept designed the tailor made solution.
The Russian wood sector is characterized by complex requirements. Tailoring industrial systems requires partners who understand project business. WEINIG Concept is a proven specialist in the field with a worldwide reputation. Something Angara Plus also appreciates. Having been very satisfied with the fully-automated production line for solid wood panels purchased in 2013, the company also turned to WEINIG as its first choice when it came to expanding its operations with a production line for finger-jointed products. What was required was a complete process ranging from checking wood humidity and cutting out defects to cutting fixed lengths, finger jointing, block gluing and destacking. The complete provider WEINIG was able to present a convincing solution. This included the integration of the ultra-fast OptiCut 450 Quantum optimizing cross-cut saw, the EasyScan+ 200 C scanner system and two Powermat moulders that deliver particularly high performance. The centerpiece of the production line, however, is the Turbo S-1000 short timber finger-jointing line with an output of up to 200 parts per minute. The process stage is completed by a ProfiPress C 6100 L high-frequency press. Naturally, the entire automation comes from the WEINIG Group. The production line is designed for 300 production days per year. To achieve maximum machine availability, the production line was equipped with a remote maintenance system. This allows the WEINIG technicians to assist where necessary without having to travel.
Photo: High spirits in Moscow WEINIG CSO Gregor Baumbusch (right) and Angara Plus Managing Director Vladimir Kashishin (2nd left) celebrate the progress of the project with the team
Source: Holz-Zentralblatt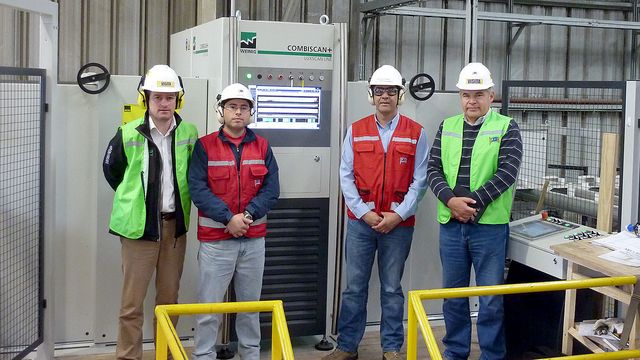 J. Christer Ericsson, founder of JCE Group, which takes his name, is a legend. A creative mind who could always spot future opportunities. When the former naval officer launched a second career as an entrepreneur, he initially remained faithful to his previous field. He enjoyed instant success with his idea of replacing the chains for loading ship containers with plastic belts. Another idea, namely building spectacular hotel platforms in open sea, earned him global renown. Today, JCE Group is an international investment company based in Gothenburg. The head office manages an enormous breadth of activities, which are characterized by progressiveness and sustainability. The group has maintained its links with the sea via offshore commitments in wind power projects. Another cornerstone is the wood industry. The group is a market leader in the chipboard plant and sawmill sector. In partners, they seek companies that can help them shape their innovative focus. WEINIG meets these requirements. JCE Chile S.A. acquired a CombiScan+ C 600 scanner for 4-sided detection with laser and color cameras, which is also equipped with X-ray sensors. The system is used for the production of finger-jointed goods and panels. Given that previous practices included marking with chalk, the technology heralds a new era in optimization for JCE Chile. The previous output of up to 22,000 running m/shift has been increased to 30,000. The company also invested in an OptiCut 450 FJ+ high-speed optimizing cross-cut saw. This achieves a timber yield of up to 6 per cent while the defect rate has decreased dramatically compared with the old cross-cut system. "Previously, cutting was a huge problem. Not now," report JCE.
No regrets about using outsiders - the Dauerholz story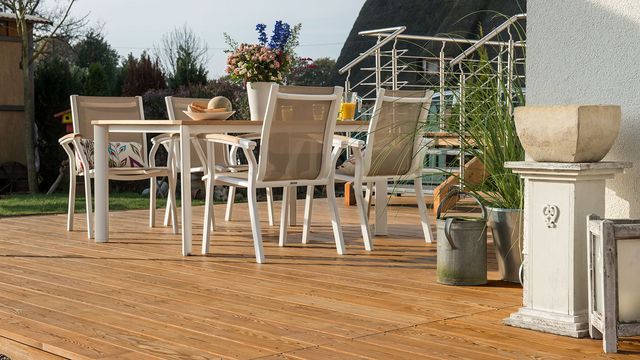 Peter Weller says: "If I want an entire concept, there is no alternative to Weinig."

The idea started in Hamburg. The production was outsourced to MeckPom. Using outsiders has really given the company a boost. But the Dauerholz decking boards are an obvious hot topic.

A few years ago, a Hamburg carpenter made a sensational discovery: Unlike similar preservatives, hot wax seeps into the core of the wood ensuring genuine deep protection. The researcher found bold investors who believed in the idea, primarily because the outdoor area, with decking and construction timber, provides vast scope for ecological wax-impregnated wood with its high resistance to weathering, moisture and pest infestations. A production plant was built in the perfect spot in Dabel near Schwerin.

The customized Dauerholz production line was designed and installed in close cooperation with the project specialists at Weinig Concept. As well as a planing and profiling machine, a high-speed optimizing cross-cut saw, a curve cross-cut saw, a scanner and a finger-jointing line, the site also includes a tool grinder machine from the Weinig portfolio. "We wanted to keep the entire process in-house as well as being completely autonomous in terms of tool preparation," says Peter Weller, explaining the decision.

Dauerholz placed greatest emphasis on optimization of wood recovery and finishing. We performed a recovery analysis and established that we had more than halved cutting losses, reports Peter Weller. This success is also partly attributable to the new moulder. The moulder is equipped with "floating" vertical spindles whose flexible bearings allow it to follow the natural curvature of the wood over long lengths. This prevents "snipes" and "dips" on either end of the work piece and eliminates finish planing with further chip removal.
New Weinig scanners for LIGNA 2015