WEINIG optimizing cross-cut saws: Pure performance and efficiency for the most advanced lengthwise cross-cutting
Cross-cutting –a simple process with more benefits than you might think - increased productivity, value creation, protection of resources and, not least, profit. Ultimately, every work piece must be cross-cut at some point during production. With an OptiCut from the Dimter Line you can automate and optimize your lengthwise cross-cutting, guaranteeing you reliably high daily performance and production quality.
"Optimizing cross-cut saws are built for fast and precise cross-cutting of single boards in solid wood, panels and similar materials. Regardless of the material to be cross-cut, the OptiCut DimterLine series models are not only the fastest but also the most reliable in their performance class. Every production run has its own different requirements and options. The modular design of the OptiCut series enables us to tailor your saw precisely to your wishes and requirements. Starting with the OptiCut 150, an individual machine, to the fully-automatic, linked cross-cut line with up to four individual saws in the OptiCut 450 series from the Dimter Line , we can offer the right solution for you – everything from a single source.
Our close contact with you "our customers" and focus on our core skill of "cross-cutting" has made us the technology leader. The high quality and availability of our machines in day-to-day production make "OptiCut" saws synonymous with length-optimized cross-cutting. This is evidenced by our "OptiCut 450 Quantum Dimter Line – the fastest saws in the world"
Built for automatic cross-cutting - come what may.
The most universal optimizing cross-cut saw
More profit and transparency
Cross-cut undersized, twisted and bowed timber without restriction
Modular retrofit / extension
Highly user-friendly
WEINIG OptiCut 200 series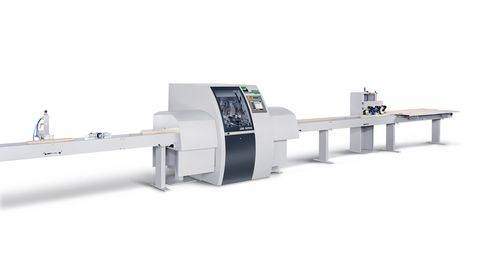 Strong concept for profitable, high-performance cross-cutting
More profit and transparency
Dynamic, precise and efficient cross-cutting
Optimal cutting precision
Perfect automatic sorting
Detail page OptiCut 200 series
WEINIG OptiCut 450 series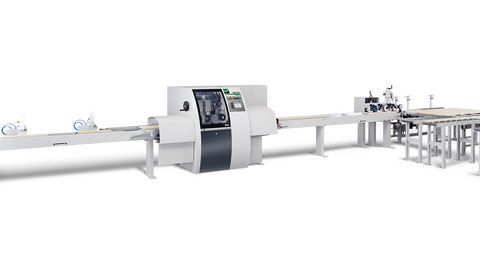 Optimizing cross-cut saws – built for maximum dynamism and performance with every cut.
Impressive, dynamic, precise and rapid cross-cutting
Uninterrupted cross-cutting as standard
More profit and transparency
Optimal cutting precision
Perfect automatic sorting
Detail page OptiCut 450 series
Menu for technology connoisseurs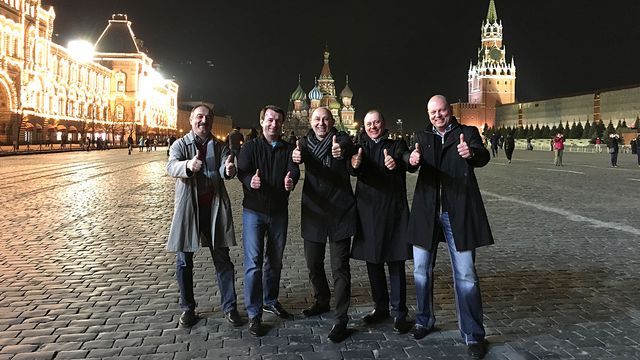 Angara Plus from Bratsk, Siberia, manufactures solid wood components for furniture production on a large scale. The company recently commissioned its second fully-automated production line. WEINIG Concept designed the tailor made solution.
The Russian wood sector is characterized by complex requirements. Tailoring industrial systems requires partners who understand project business. WEINIG Concept is a proven specialist in the field with a worldwide reputation. Something Angara Plus also appreciates. Having been very satisfied with the fully-automated production line for solid wood panels purchased in 2013, the company also turned to WEINIG as its first choice when it came to expanding its operations with a production line for finger-jointed products. What was required was a complete process ranging from checking wood humidity and cutting out defects to cutting fixed lengths, finger jointing, block gluing and destacking. The complete provider WEINIG was able to present a convincing solution. This included the integration of the ultra-fast OptiCut 450 Quantum optimizing cross-cut saw, the EasyScan+ 200 C scanner system and two Powermat moulders that deliver particularly high performance. The centerpiece of the production line, however, is the Turbo S-1000 short timber finger-jointing line with an output of up to 200 parts per minute. The process stage is completed by a ProfiPress C 6100 L high-frequency press. Naturally, the entire automation comes from the WEINIG Group. The production line is designed for 300 production days per year. To achieve maximum machine availability, the production line was equipped with a remote maintenance system. This allows the WEINIG technicians to assist where necessary without having to travel.
Photo: High spirits in Moscow WEINIG CSO Gregor Baumbusch (right) and Angara Plus Managing Director Vladimir Kashishin (2nd left) celebrate the progress of the project with the team
Source: Holz-Zentralblatt
A sector with huge potential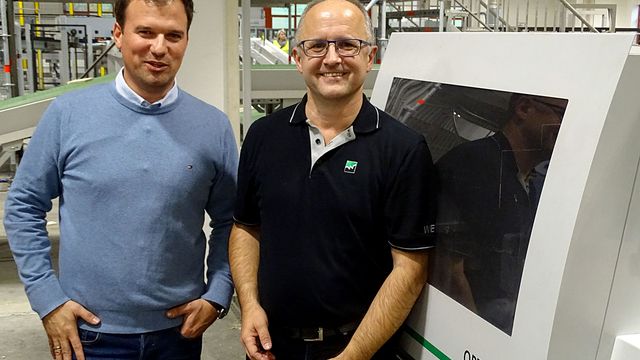 Gigantic would be the right word to describe the Tricor Packaging & Logistics AG production facility in Eppishausen/Germany. Every hour, the fully-automated WEINIG production line produces around 360 pallets for in-house use.
Freight transport is one of the world's major growth markets. Manufacturers of wooden packaging are also benefiting from this. One outstanding representative of the sector isTricor, the European market leader in heavy-duty corrugated cardboard packaging. Customers come primarily from the automotive and mechanical engineering sectors as well as the electronics, medical technology and chem-ical industries. For a long time, the company purchased its annual requirement of 1,300,000 special pallets externally. Then they turned to WEINIG. Besides increased productivity, im-proving the value chain was also on their wish list. In June 2017, a highly automated cutting system was delivered to the Eppishausen plant. Central components comprise three parallel OptiCut 260 optimizing cross-cuts saws with Variospeed infeed belt and downstream sort-ing as well as an Ultra TT finger-jointing line for leftover pieces from 150 mm. The finger-joint-ed lamellae are then fed back into production. Only three employees produce up to 360 pallets per hour on the high-performance production line, which is linked to a Corali pallet system. For a pallet measuring 1,220 x 820 mm, this equates to approx. 80 m/min of incoming materials to the cross-cut saws or around 30,000 running meters per shift. The system is charged via vacuum destacking, which takes up to three infeed stacks simulta-neously with three different wood dimensions. The boards are checked via automatic humidity measurement before a layer allocator assigns one dimension to each of the three saws. Dr. Mario Kordt, Managing Director of Weinig Dimter, underlines WEINIG's special position in the packaging segment: "With our technology, we provide a unique service to an area that ranges from 2-man operations to the industrial sector." With WEINIG's expertise in cutting, gluing and scanning, the WEINIG Group customer receives from a single source everything that is needed to ensure the efficient and economic production of pallets and wooden packaging.
Photo:
A WIN-WIN situation for supplier and customer: Manfred Ness from WEINIG (right) with Tricor project manager Maik Christmann
The more challenging the better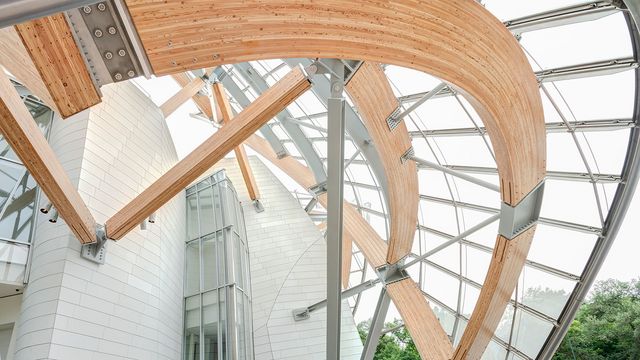 The Louis Vuitton Museum in Paris is a veritable feast for the senses in steel, glass and wood. The planning and design required boldness and inspiration. Precisely the right kind of challenge for Mathias Hofmann and his company Hess Timber.
Louis Vuitton is renowned worldwide as a manufacturer of exclusive luggage, handbags and champagnes. Behind the brand is France's richest man Bernhard Arnault. An art lover who recently commissioned the construction of the museum of the Louis Vuitton foundation in the south of Paris. The plans were drawn up by renowned North American architect Frank Gehry. Costs were not high on the agenda and the individual works were subject to the highest demands in quality and creativity.
Mathias Hofmann and his company Hess Timber won the tender for the timber sections of the winding and sophisticated roof structure comprising 12 sails. "The more challenging the better. I love such projects," says the man from Kleinheubach, Bavaria, of his philosophy. With his unconventional thinking and bold attitude to risk, Mathias Hofmann has earned a lofty status in international timber construction engineering. He somewhat regrets that his highly competitive day-to-day business, building supporting structures for standard buildings, has taken something of a back seat. The costs for major projects are high. "Each time you need practically new technology," he says. This was also the case for the Louis Vuitton Museum. The ridge girders required, partly comprising two arches, were produced on an in-house press bed. The client was impressed during the tender process by Mathias Hofmann's unusual style of rod-based block gluing. The highlight is a rod cover lamella that has the same visual appearance from above and below as from the sides.
That transporting the laminated beams, which are up to 28 meters long, through the Parisian metropolis did not cause chaos is attributable to another unorthodox idea of Mathias Hofmann – Hess Limitless. The procedure is based upon a special adhesion geometry and, in principle, enables girders to be transported in short, individual segments without length restrictions or loss of bearing capacity. The girders are then put together at the construction site. Mathias Hofmann can rely on excellent partners in WEINIG. Defects are cut out by an OptiCut at Hess Timber. Two PowerJoint systems take care of finger jointing the lamellae. A Powermat then planes the workpieces ready for gluing. "I have never regretted opting for WEINIG," says Mathias Hofmann.
Photo: HESS-TIMBER / © Rensteph Thompson
"First you must understand what you want"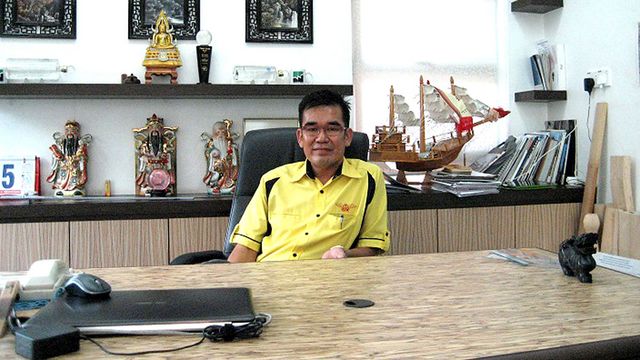 The man behind the desk has a striking name and is an equally striking personality. Mr. Tiger You is part of the furniture at this Malaysian rubberwood company.
Tiger Excellence Wood in Malaysia produces furniture parts from rubberwood, the Asian plantation wood. The raw material is provided by the company's own plantation. The residual timber is sold to a wood chip producer. A long value chain that says much about the quality of the company. Higher manufacturing productivity and independence from suppliers have long been on the wish list of owner Tiger You. He particularly wanted greater efficiency in the labor-intensive sorting process for rubberwood with its many shades of color. This is a key factor for commercial success as consistent surfaces are the ultimate quality benchmark. Tiger You was aware that it would take time to implement his plans. "First you must understand what you want," he underlines. WEINIG Asia ultimately convinced Tiger Excellence Wood with a unique combination of a high-speed solution and two-sided assessment of the workpiece – a crucial unique selling point in the sector. The customized system is able to produce 125 parts per minute. The major components are an OptiCut Quantum 450 cross-cut saw, a specially developed automation system and a Matchscan scanner. The scanner is equipped with high-resolution color cameras capable of sorting 300 parts per minute into 6 different color shades. Downstream of the scanner is a spraying device that marks poor board sides for further processing. Tiger Excellence Wood is highly satisfied with the system's performance. "German machinery is worth the price," says Tiger You, adding: "Taiwanese machines may be cheaper but quality is not guaranteed. Over the long term, maintenance costs can even exceed the purchase price of a German machine."
Source: Panels & Furniture Asia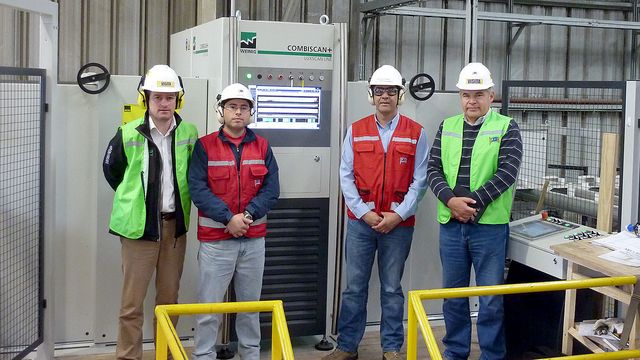 J. Christer Ericsson, founder of JCE Group, which takes his name, is a legend. A creative mind who could always spot future opportunities. When the former naval officer launched a second career as an entrepreneur, he initially remained faithful to his previous field. He enjoyed instant success with his idea of replacing the chains for loading ship containers with plastic belts. Another idea, namely building spectacular hotel platforms in open sea, earned him global renown. Today, JCE Group is an international investment company based in Gothenburg. The head office manages an enormous breadth of activities, which are characterized by progressiveness and sustainability. The group has maintained its links with the sea via offshore commitments in wind power projects. Another cornerstone is the wood industry. The group is a market leader in the chipboard plant and sawmill sector. In partners, they seek companies that can help them shape their innovative focus. WEINIG meets these requirements. JCE Chile S.A. acquired a CombiScan+ C 600 scanner for 4-sided detection with laser and color cameras, which is also equipped with X-ray sensors. The system is used for the production of finger-jointed goods and panels. Given that previous practices included marking with chalk, the technology heralds a new era in optimization for JCE Chile. The previous output of up to 22,000 running m/shift has been increased to 30,000. The company also invested in an OptiCut 450 FJ+ high-speed optimizing cross-cut saw. This achieves a timber yield of up to 6 per cent while the defect rate has decreased dramatically compared with the old cross-cut system. "Previously, cutting was a huge problem. Not now," report JCE.
Top quality glulam in seconds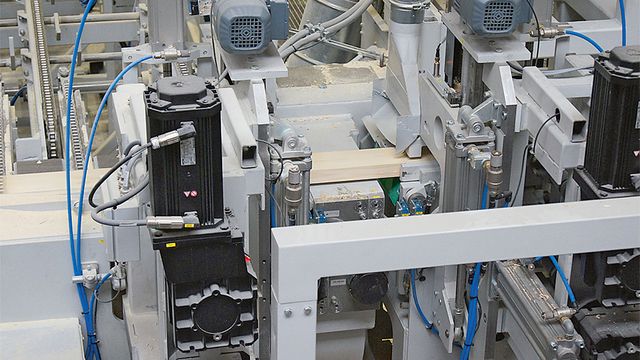 At Weinberger in Austria, a glulam lamella is jointed every two seconds. However, output is not the prime objective. It is quality that counts.

Weinberger Holz in Abtenau recently commissioned a completely new system concept for glulam production. Two high-performance compact systems from the WEINIG GreconLine provide output of 30 longitudinal joints per minute. Normally, one strand is responsible for the flawless top layer and a second for the central layers. However, if the top layer is proportionally small, e.g. in the case of thick girders, both machines joint central layers. Second highlight: Since the finger jointing is only performed by one cross-cut saw, a WEINIG OptiCut Quantum 450, both top and central layer quality can be processed without a larger buffer of raw wood.

By extracting flawless parts from the raw timber, Weinberger has increased its surface quality to "unprecedented levels" in its own words. The "completely open construction on one side" was first used when finger jointing on both PowerJoint 15 machines. The wood is transported via cross conveyor directly into the processing area, where it is simply finely positioned before jointing commences. Weinberger is certain that compact systems have significantly higher pressing quality compared with extrusion presses. The individual clamping reduces jointing offset. A top priority for the quality-driven Carinthians.

Source: Holzkurier
Ready for the future with solid wood panels.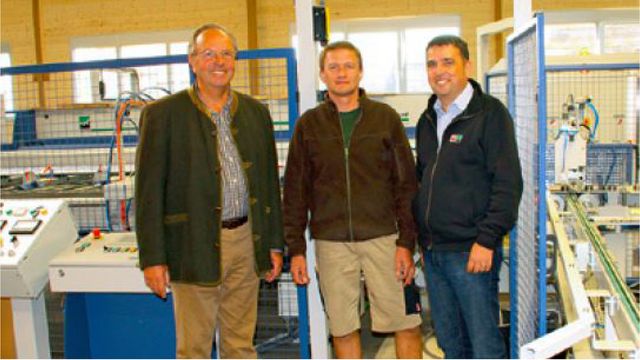 Since 2001 the hardwood sawmill owner Walter Ohnemus has been running a cutting line. In 2011 he dared to take the next step towards further processing: solid wood board production in Kappel-Grafenhausen with the ProfiPress T 3500 from Dimter.