WEINIG ProfiSplit 1100: The robust and modern band resaw as a single or twin band saw with a feed speed up to 80 m/min.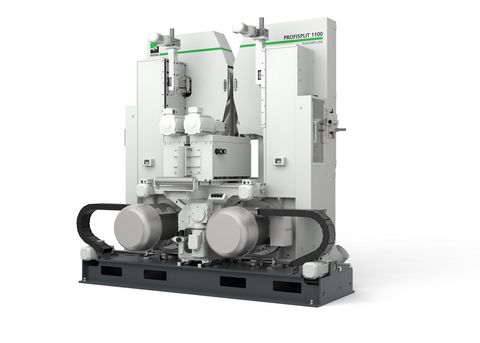 Better wood recovery, more effective chip extraction, improved user-friendliness - the new ProfiSplit 1100 band resaw opens up a whole new range of prospects.
The intelligent PC control makes operation fast and comfortable and offers a variety of setting options. Due to the perfect interaction of the new feed unit with freely selectable stop side and the precisely positionable sawing units, you have the free choice how the incoming wood should be cut.
For example, into one, two or three identical pieces. What this means for you is a significant increase in options, resulting in versatile and profitable production. However, one thing remains constant: high reliability in accordance with strict quality standards and the premium service of a world market leader.
Prices
x
Different requirements - different prices
The price of a WEINIG machine is just as individual as your requirements are. Therefore, let us discuss briefly what is most important to you – you will then receive our preliminary, non-binding quote.
Personal advice
x
Personal advice – for higher productivity and greater efficiency
Together with your WEINIG expert you will find the ideal machine for your requirements. Simply submit the completed form, and your local WEINIG expert will be happy to discuss all further details with you.
---
The WEINIG ProfiSplit 1100 provides
Strong and positioned saw blade guidance
Bevel-cut device
Programmable settings with wood optimization
Completely electronic drive
Maximum work safety incl. dust and sound-proof enclosure
Solid and robust construction