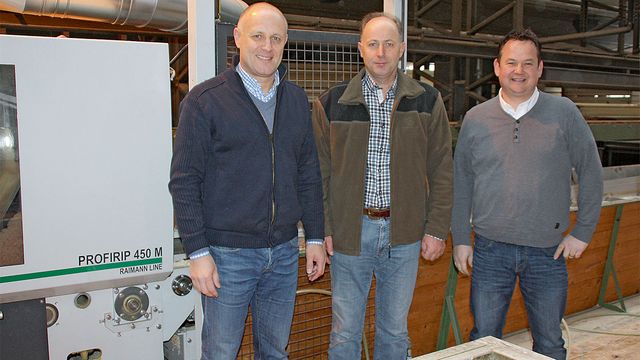 Every innovation must pass an acid test at some stage. The new ProfiPress 450 Speed multi-blade buzz saw was not given a VIP pass at Josef Wyss AG in Büron, Switzerland.
A picture-perfect test scenario: The Wyss sawmill produces glulam lamellae, crate and packaging products as well as construction timber. In 2006, the company also invested in a chipper and circular saw line in addition to its reciprocating saw. The slab timber is cut with an edger. The latter was reaching the end of its service life at Wyss. "Repairs were piling up. We were also not sufficiently flexible with our old system," says Stefan Wyss. "As a satisfied customer, we wanted to give WEINIG the opportunity to test its prototype," he adds. In contrast with other machines with a chain bed on the market, the ProfiRip 450 Speed has a roller feed. This is particularly useful for softwood sawmills such as Josef Wyss AG, for whom throughput capacity is a priority. "The objective was not to achieve higher cutting volume," explains Stefan Wyss.
"The advantage of higher added value was much more important to us." The multiple cutting and processing of different widths ensures better use of the raw material. Furthermore, the top saw shaft achieves higher cutting quality. And there are even more plus points for the new machine: "Previously, cutting on the edger was highly inflexible. With the three-fold blade adjustment, we are completely flexible," says Stefan Wyss. Wyss can also process different panel widths interchangeably without having to adjust the system. Conclusion from the test phase: The new ProfiRip 450 Speed is a robust machine for day-to-day sawmill operations that can also achieve high feed speeds.
Source: Holzkurier