No regrets about using outsiders - the Dauerholz story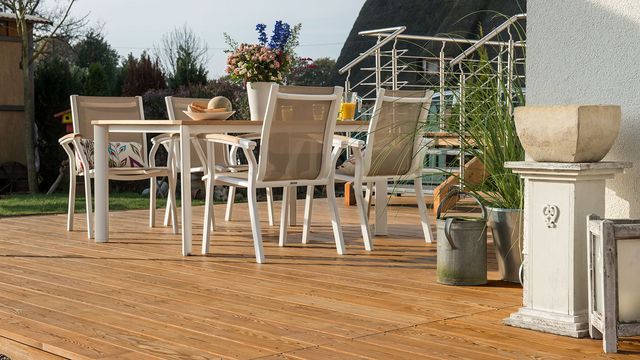 Peter Weller says: "If I want an entire concept, there is no alternative to Weinig."

The idea started in Hamburg. The production was outsourced to MeckPom. Using outsiders has really given the company a boost. But the Dauerholz decking boards are an obvious hot topic.

A few years ago, a Hamburg carpenter made a sensational discovery: Unlike similar preservatives, hot wax seeps into the core of the wood ensuring genuine deep protection. The researcher found bold investors who believed in the idea, primarily because the outdoor area, with decking and construction timber, provides vast scope for ecological wax-impregnated wood with its high resistance to weathering, moisture and pest infestations. A production plant was built in the perfect spot in Dabel near Schwerin.

The customized Dauerholz production line was designed and installed in close cooperation with the project specialists at Weinig Concept. As well as a planing and profiling machine, a high-speed optimizing cross-cut saw, a curve cross-cut saw, a scanner and a finger-jointing line, the site also includes a tool grinder machine from the Weinig portfolio. "We wanted to keep the entire process in-house as well as being completely autonomous in terms of tool preparation," says Peter Weller, explaining the decision.

Dauerholz placed greatest emphasis on optimization of wood recovery and finishing. We performed a recovery analysis and established that we had more than halved cutting losses, reports Peter Weller. This success is also partly attributable to the new moulder. The moulder is equipped with "floating" vertical spindles whose flexible bearings allow it to follow the natural curvature of the wood over long lengths. This prevents "snipes" and "dips" on either end of the work piece and eliminates finish planing with further chip removal.