Industry meeting at Weinig Dimter: Exciting highlights inspire the visitors in Illertissen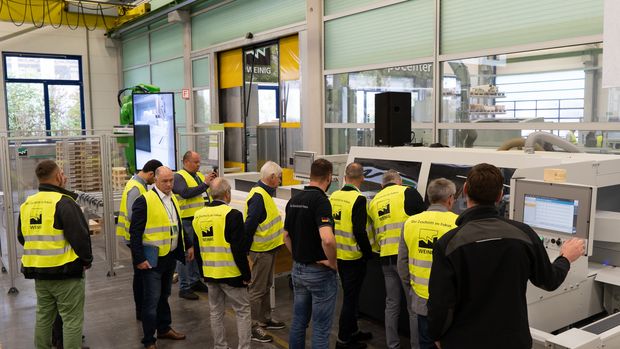 At the meanwhile established industry meeting, a diversified program around the topic of wooden packaging was offered. For the first time, the new Weinig Dimter Expo Center was used, which impressed numerous national and international visitors. The focus was on digitization and automation with their effects and opportunities for packagers.
After an official welcome by Dr. Mario Kordt (CTO Weinig Group), Markus Kirschner (CEO HPE) informed about the current developments in the wooden packaging industry. With "News from the Cutting Sector", Dr. Kordt highlighted the technological developments and added value for packagers through the innovative machine technology from Weinig Dimter. The newly introduced OptiCut S 50+ with a modular system that grows with the customer and enables flexible use for any size of operation was a particular focus. Another highlight was the OptiCut S 90 wFlex+ with robot stacking from WoodCare, which demonstrated the advantages of a high-performance push-feed saw for fully automated pallet production. In addition, Jochen Ganz explained the current developments around the WEINIG App Suite as a smart solution for production monitoring. During the event the visitors could observe the status of the exhibits connected in real time via the Weinig App. The lecture held by Andreas Hopferwieser (CEO acadon) looked at the challenges in the implementation of digitization and ERP projects. The presentation by WoodCare on the subject of robot use rounded off the interesting lecture program. Wolfgang Perusch (CEO Perusch Paletten) and Siegfried Salchenegger (CEO WoodCare Solutions) presented the advantages of the technology together with Weinig Dimter customer Perusch Paletten, a practical user of the robot technology from WoodCare. The impressive combination of WoodCare robotics and Weinig Dimter machine technology as added value for the woodworking industry could be experienced live in action in Illertissen.
In the following live machine demonstrations, the added values explained in the technical presentations were presented in a practical manner. A total of 22 impressive machines from the Weinig Group were presented and 23 guest exhibitors rounded off the extensive information base for the packaging industry. Above all, the possibility of an intensive exchange of opinions amongst customers as well as technical discussions between suppliers and customers, was received positively throughout. In retrospect, the Packaging Days 2019 were once again a complete success for the Weinig Group, but above all for the more than 350 visitors who were able to obtain comprehensive information on the subject of wooden packaging. The lasting discussions as well as the convincing machine technology confirm that the Weinig Group with its solutions is the ideal point of contact for packaging operations of all sizes.