New edging highlights with the LUMINA 1596 4.0 Edition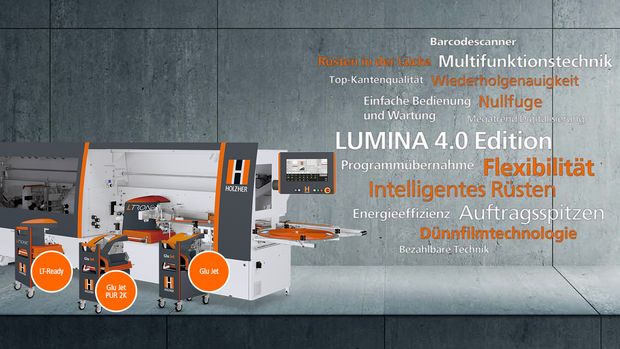 Set-up in the gap
In addition to iTronic, multi-function tool technology and fast servo-axes, "set-up in the gap" is one of the top themes for efficient edgebanding. "Set-up in the gap" enables you to run different machining processes at the same time on the edgebander. For example, the corner rounding unit or trimming unit pivoting can be switched on intelligently, without having to empty the machine for the set-up procedure.
Intelligent user guidance
The new, intelligent user guidance allows an even more intuitive adjustment of all milling and scraping processes. At all times, the operator can identify which corrections are being made in which direction on a graphical display. The values for horizontal and vertical tool feed entered on the control unit are converted fully automatically to actual axis values in the background. This makes sample workpieces a thing of the past.
New generation of high speed servo-axes
At HOLZ-HER we are currently installing more than 8,000 NC servo-axes of the latest generation every year. These axes ensure lightning fast changeover on your edgebander to a really wide range of applications: with repetition accuracy, durability and high precision. In combination with the intelligent iTronic package, you have a thoroughly smart edgebander as an efficient partner.