Customer Spotlight: GFR Custom Cabinetry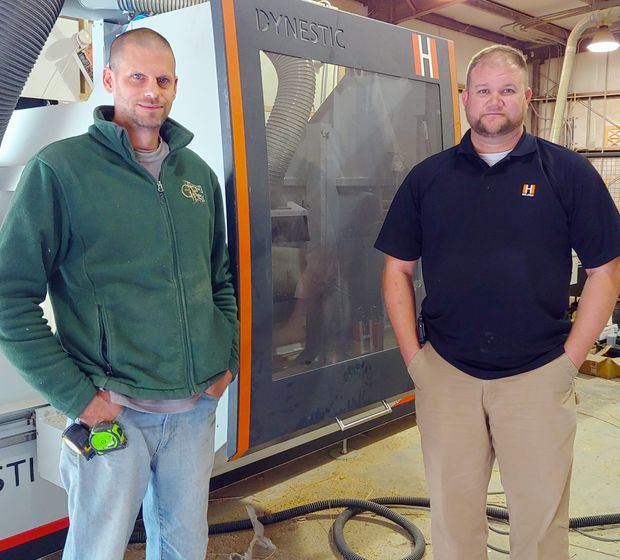 George Remensnyder, owner of GFR Custom Cabinetry (left) and Chad Sloan, sales engineer at Weinig Holz-Her USA (right)
GFR CUSTOM CABINETRY
Providing fully custom residential and commercial cabinetry, George Remensnyder, owner of GFR Custom Cabinetry, credits his success to superior quality, short lead times, and a reputation of trust that he has developed over the years. Though GFR started in his garage with a single table saw it has grown into a trusted manufacturer of custom cabinetry for the south Charlotte, NC area.
Like many other custom cabinet shops, GFR fabricates a wide array of cabinetry and casework including entertainment centers, home offices, kitchen and bath cabinetry, and occasional commercial jobs. Keeping the shop flexible enough to accommodate custom fabrication and efficient enough to exceed lead time expectations has proved an ongoing challenge through the growth of the company. GFR has found success in sourcing some products such as solid wood doors, while keeping most of their production, finishing and assembling in-house.
In early 2018 Remensnyder started to see the need for a CNC router so he began researching his options which eventually led him to nested machining solutions by Holz-Her. While discussing his production needs with his local Holz-Her product specialist, they determined a Holz-Her Dynestic 7505 with push automation would be the ideal solution for his production environment. "The out-feed conveyor was key because I knew we needed that unloading automation in order to keep up with the router's production and not have parts bottleneck on it," Remensnyder stated.
INCREASED PRODUCTION & CONSISTENCY
With the Charlotte metro area continuing to expand and residential building in the area remaining strong, GFR is poised for successful growth. "Our production capacity has doubled since the installation of the router" Remensnyder reported, "this will allow us to capture more business in our growing market." In addition to increased production, the router has also increased the consistency of quality and has benefited the overall reputation of GFR. "In our situation, I have no doubt that this machine will pay for itself within a year," Remensnyder added.
The Dynestic 7505 router is Holz-Her's tried and true nested machining center. It comes equipped with a 6-position linear tool changer and enables, milling, drilling, and cutting on a well-engineered high-flow nesting table. Controlled by Holz-Her's HOPs program, the user-friendly interface integrates with various 3rd party sofwares such as KCD which is GFR's cabinet software of choice. The out-feed push automation allows the finished nest of parts to be pushed on to a conveyor belt. This enables the router to mill another panel while the operator easily unloads the processed pieces.
GFR's new router was running production within a week after delivery, which was essential as it kept shop downtime to an absolute minimum. "I was impressed with how Holz-Her handled the entire process, it was very smooth" Remensnyder said, "I attended the training in Mooresville the week prior to installation which was convenient and educational." Holz-Her offers frequent training classes at their Mooresville facility where operators learn how to measure and define tooling, operate the HOPS controller software, and create optimized cut-lists in the CAMPUS software. After delivery of the machine, with the support of an on-site technician, Holz-Her routers are normally installed, and running production inside a week.
Positioned for growth, GFR Custom Cabinetry, along with their new Holz-Her Dynestic, is ready to meet the growing demands of their market and take their company to the next level.