Workstation Connectivity & Indsutry 4.0 to be featured in Weinig Holz-Her booth at IWF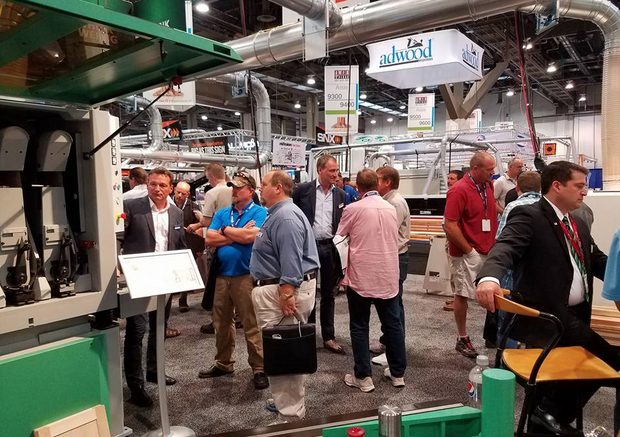 Mooresville, N.C. – Demonstrating complete system solutions will be the focus of Weinig Holz-Her USA at this year's IWF show. The company will show production cells within their booth that take full advantage of Industry 4.0 technology utilizing their EnVision software.
Weinig Holz-Her also intends to showcase a few flagship machines, such as the Rondamat 1000 CNC, the completely automatic tool grinder, the Holz-Her Storemaster, the latest in panel storage and retrieval, and the Powermat 1500, featuring the fastest moulder changeover in the industry.
Weinig Holz-Her will exhibit over 17,000 square feet that will feature both solid wood and panel processing equipment. Each day of the show the company will host two in-booth events called "The Main Event".
What is the "Main Event"…?
The Main Event is an interactive demonstration where attendees will define a custom product on the fly that consists of both solid wood and panel components. The presenters will then demonstrate how the product can be simply ordered, manufactured, and delivered with a single point of data entry. Attendees will be able to see the custom fabricated components travel through production cells and eventually all meet up together.
"The idea of the Main Event is to showcase our workstation connectivity. From point of order, through execution, to delivery we will show how a user can define a completely custom product in one place and then how it flows through the production processes. It is seamless, paperless, and transparent" stated Christian Smedberg, Marketing Coordinator for the company.
In addition to workstation connectivity, Weinig Holz-Her's focus on Industry 4.0 will also focus the Weinig App Suite, an all-inclusive tool kit for operators and production managers. The app suite includes machine monitoring services, performance reporting, access to the parts online store, shop floor calculators and more.
Weinig Holz-Her USA is the industry leader in solid wood and panel processing technology and equipment. Specializing in innovative manufacturing solutions that enable mass-customization and improve efficiency, Weinig Holz-Her USA offers an array of equipment including moulders, cross-cut saws, rip saws, finger jointers, gluing presses, scanners, CNC machining centers, edge banders, beam saws, vertical saws, material handling equipment, along with fully integrated software solutions that manage and optimize production.
Think Industry Excellence --Think Weinig.