Holz-Her Evolution Incorporated in IWF Closet Cell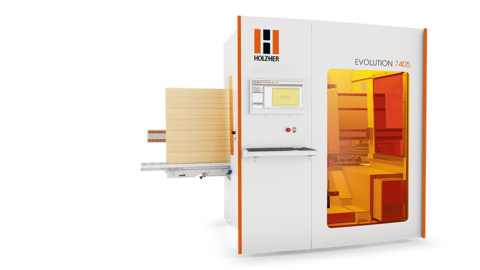 Holz-Her's vertical CNC-machining center, the Evolution, will be featured in the Weinig Holz-Her booth at IWF 2018. The panel milling machine will be incorporated into a fully operational cabinet and closet manufacturing cell.
The Evolution gained national recognition with its patent pending workpiece holding design. Each panel is held in place with vacuum suction pos instead of clamps therefore allowing the machine to drill, groove, and/or mill all four sides of the piece without repositioning the holding mechanism. The vacuum pods are automatically positioned by the controlling software based on the machining needs.
Much like many other vertical CNC machining centers the Evolution conserves floor space with less than 54 square feet needed. This offers shops an opportunity to easily incorporate the Evolution into existing manufacturing environments.
The Evolution will be within the cabinet and closet manufacturing cell located in the Weinig Holz-Her booth 6034 at the International Woodworking Fair in Atlanta GA. The cell debuted last year at the AWFS show in Las Vegas and utilizes an array of Holz-Her equipment while creating various cabinets and closet fixtures.
Learn more about the Weinig Holz-Her booth at IWF 2018: https://www.weinigusa.com/us/weinig-usa/in-the-know/weinig-iwf-2018.html