New Tooling and Supplies Catalog Available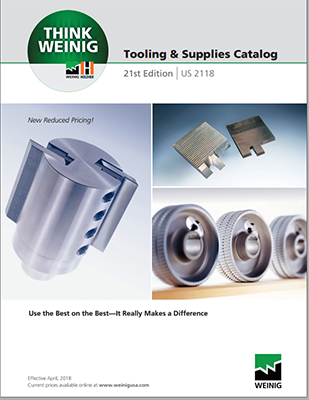 The 21st edition of Weinig's Tooling Catalog features a large number of new parts along with the Weinig SERVOLock, a compact tool revolutionizing how operators change cutterheads on moulders. Ranging from cross-cut blades to feed wheels to grinding wheels, the catalog covers tooling and supplies for virtually every Weinig machine.
"We started this tooling program three decades ago because we knew that our tooling and supplies are designed and engineered to bring out the best performance of our machines." Rick Earp Tooling Manager said "We have an entire team that is dedicated to cataloging the best tooling solutions. This newest catalog is just an extension of our promise of excellence to our customers."
The catalog's most expansive section features Weinig's array of cutterheads, including PowerLock cutterheads. PowerLock is Weinig's moulder tooling with Hollow Taper Shank (HSK) locking which enables quick changeover and stronger than ever clamping force.
With the new catalog, Weinig has also released new pricing on many of their parts. "While the quality and specs of our corrugated cutterheads have stayed the same, we have been able to dramatically improve pricing on these pieces in particular" Earp stated.
A copy of the 21st edition of Weinig's Tooling & Supplies catalog can be requested from their website.