Weinig SERVOLock Now Available Online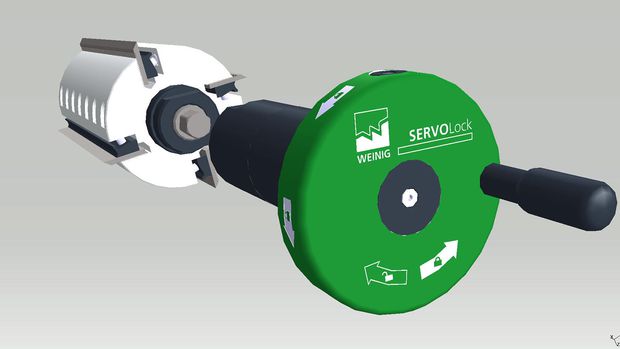 Weinig Holz-Her USA, a leader in solid wood and panel processing equipment and technology, unveiled the Weinig SERVOLock tool as available to order on their website.
The Weinig SERVOLock is a smart compact tool that improves the process of tightening and loosening the spindle nut while clamping moulder cutterheads into position on Weinig moulders. The tool has an internal gearbox that ensures a significant reduction of manual effort when compared to the traditional combination wrench.
"Loosening and tightening the spindle nut is not always the easiest thing to do and requires a high degree of physical force" Michael Muschket, a Weinig Senior Product Specialist, stated "but this is precisely where the SERVOLock excels. The nut can now be put on or removed with effortless ease". The SERVOLock also incorporates a slipping clutch that, similar to a torque wrench, ensures that the spindle nut is always tightened with the correct torque. In addition to ensuring the amount of torque, the tool has printed directional arrows ensuring the operator knows which way to turn the tool to loosen or tighten.
While the SERVOLock was developed and released in late 2017, Weinig Holz-Her USA is now offering it on their tooling e-commerce site. "We are very excited to offer such an innovative product on the site" Rick Earp, Tooling Manager at Weinig Holz-Her USA, said "Our goal is to provide a convenient platform where shops can easily order tools like this". The SERVOLock is one of over 300 new products that have been added to the online store within the last year.